Unless you've been living under a rock, which we really can't blame you for that, you've heard all about content marketing by now. In fact, you've probably been inundated with content marketing talk over and over again.
In the B2C and B2B space, content marketing is one of the most talked about topics around. Marketers love it because it not only costs 62% less than outbound marketing, but content creation also generates three times as many leads (Demand Metric). That's a lot of success to tout.
Whether content marketing is brought up because of the updated General Data Protection Regulation (GDPR) from the EU or because it has lower up-front costs and deeper long-term benefits than paid search (Oracle study), everyone wants to provide insight. Unfortunately, this also means that content marketing has been talked to death, and it can be hard to weed through the noise to get to the jewels.
There's no doubt that content marketing, when done successfully, is an incredible way to build relationships, increase sales, and develop a solid brand reputation. The problem is that even with all of the information available, many businesses still get content marketing wrong.
The Problem of Content Marketing
Too often, businesses equate solid content marketing with hard sales and a few great blog posts. The reality is that content marketing is a long-term strategy that requires a well-planned approach. You can't jump on the bandwagon for a few months and expect to get a positive ROI. Instead, you need to plan for a slow build that works over months and years to reach your audience and engage them in your online marketing strategy.
The key to this slow build is having tools in place to ensure that you succeed. Content marketing is a big-picture concept that must tell a complete story, and this can be overwhelming. For example, few businesses have the time and team necessary to publish 16 blog posts a month, which is how you get 3.5 times more website traffic compared to publishing zero to four articles (HubSpot).
Content Marketing Tools
Tools help you to make the most out of your time, energy, and budget, and they're vital for that 50% of companies who cite bandwidth and time as their primary issue with content marketing (Slideshare report). Just make sure you choose the right tools to help you.
We've compiled a list of our top six favorite content marketing tools for 2018. These tools can help you with everything from finding content ideas and crafting your content to analyzing your audience, editing your posts, and managing it all.
1. EpicBeat
The first step to effective content marketing is creating engaging content. To do that, you first need to discover what type of content will perform well. For many businesses, it's a huge struggle to identify topics that their audience wants to hear about, which is why so many marketers fall back on the ineffective hard sale.
EpicBeat makes it easier than ever to find trending content online that matches your industry. The tool then helps you take that content and curate it into a publishing strategy. Where EpicBeat excels is its ability to help you search for appropriate content and topics by associated themes, authors, influencers, format, and more. This gives you the ultimate control over the type of content you'll find and share online.
Pricing: For small businesses, pricing starts at $49/month up to $199/month.
2. nDash
nDash solves the problem of too much work and too little time. It's an all-in-one content creation platform that makes it easier than ever to find elite talent to create amazing content. Basically, it simplifies the content creation process by connecting you with a community of freelance writers and marketing professionals who can help you manage the entire content creation process.
The benefit of nDash over similar freelance platforms is that nDash doesn't just have a network of 5,000+ writers. Those writers come from a myriad of backgrounds and have a wide range of experience, including former marketing executives, engineers, journalists, lawyers, investors, and other professionals. This means that you can find the exact writing expert for your topic. And if you need more than just a great writer, nDash receives a steady stream of unique topics that you can browse to find the exact pitch that you want.
Pricing: Plans start at $0/month and go up to $100/month. Enterprise plans are also available for large-scale businesses.
3. Grammarly
It's not enough to write engaging content; your content needs to be infinitely readable. That's where Grammarly can help. Grammarly is a must-have editing tool that ensures everything you write is as clear, effective, and mistake-free as possible. Think of it as a tool that gives your writing that final polish, so it looks and reads like a professional post.
What we love is that Grammarly allows you to edit directly in Microsoft Word, on social media, in WordPress, and wherever else you may write. Plus, it's more than just a tool for fixing common and complex grammatical mistakes. It also helps you improve your vocabulary, check for plagiarism, and offer better clarity.
Pricing: Plans start at $29.95/month.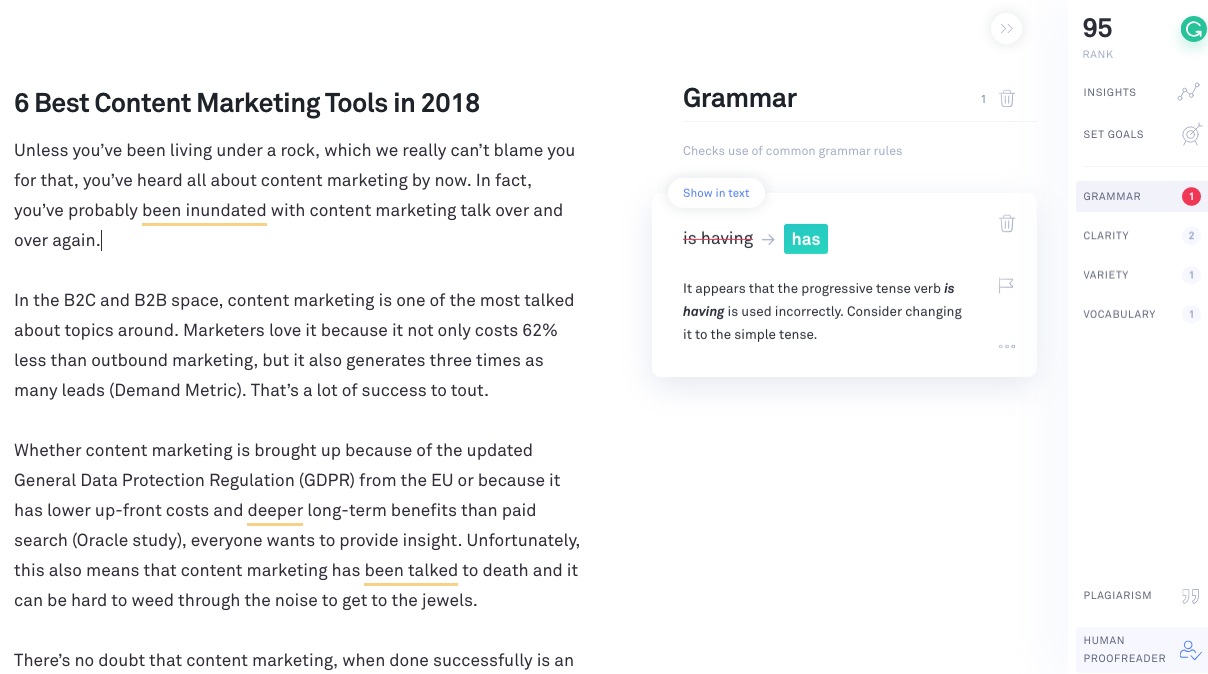 4. Biteable
Not all content is written. Video and image content is just as valuable. In fact, 51% of marketing professionals worldwide name video as the type of content with the best ROI (Insivia). And social video generates 1200% more shares than text and images combined! The problem is that creating great video can be a struggle for even the largest companies. Thank goodness for Biteable.
Biteable is a simplified video maker that makes it easy to create video ads, explainer videos, infographics, animations, and more. All you have to do is take your own content, even if that's a smartphone video, and upload it to their online platform. From there, you choose the right video template, edit your content, add a soundtrack, including animations, and more. Biteable makes it possible to create and share HD TV quality videos quickly and easily.
Pricing: Plans start at $0/month and go up to $8.25/month.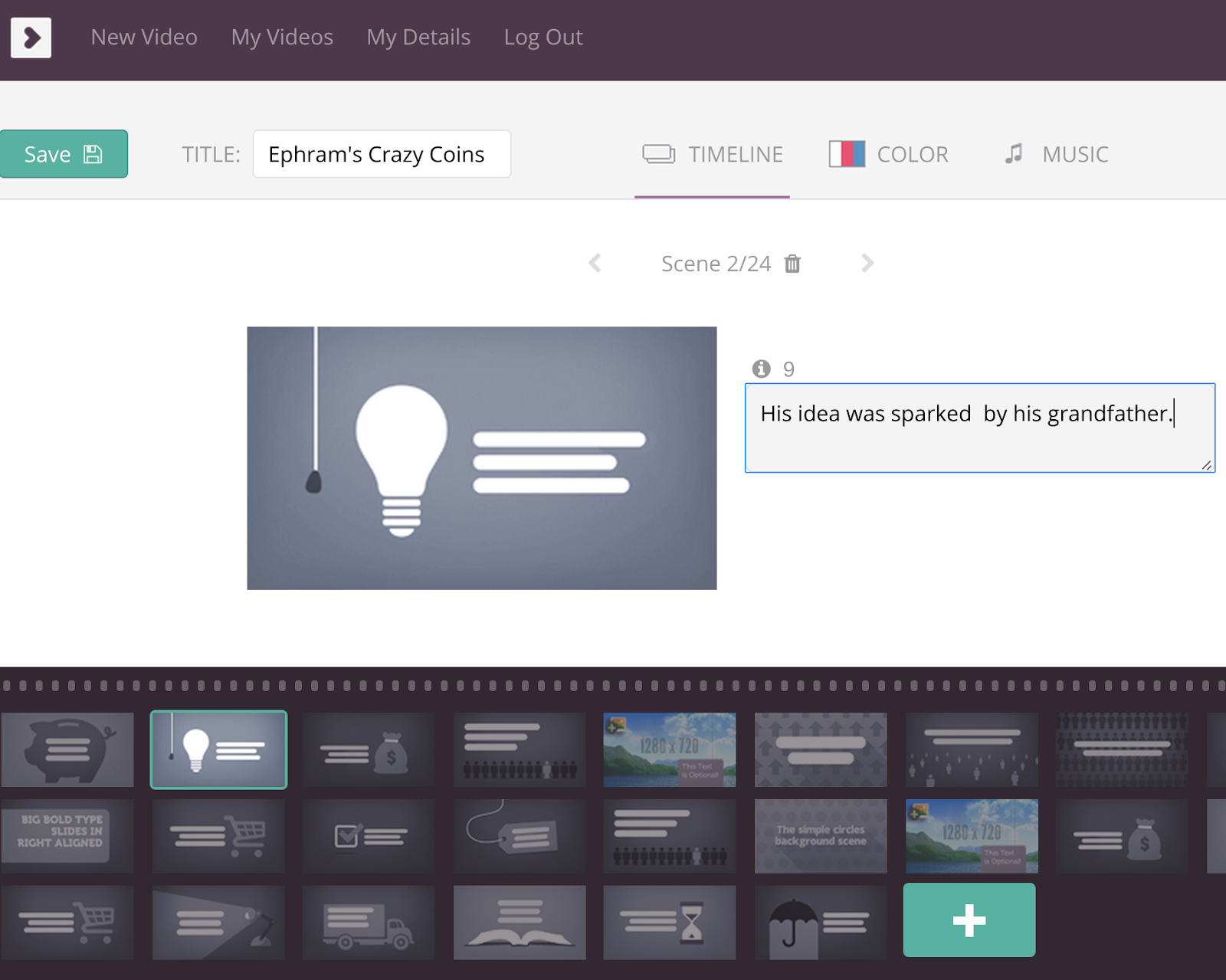 5. SimilarWeb
The key to an effective content marketing strategy is understanding your performance. SimilarWeb gives you the analytics and statistics you need to build better market-driven strategies for your content. It works by benchmarking your performance against your competitors and industry standards.
What this means is that SimilarWeb gives you insight into your competitors' online strategy so you can discover new opportunities, partners, leads, and affiliates, identify emerging trends and new players, and better understand your customers. The goal of SimilarWeb is to give you better insight into your website traffic, so you can understand what's working in your content strategy and what's not. This is vital to continued improvement.
Pricing: You can sign up for the FREE plan or contact SimilarWeb about Enterprise plans.
6. Buffer
If you're looking for a better way to manage your social media presence, Buffer is the tool for you. It makes it easier than ever to manage your business's social media accounts, helping you to schedule posts, analyze performance, and collaborate with your team. Think of Buffer as your all-in-one social media manager.
With Buffer, you only log in to one tool to set your entire posting schedule, add new posts and build your followers across platforms. It works with Facebook, Twitter, LinkedIn, Instagram, Pinterest, and Google+. Even better, Buffer simplifies the content discovery process by allowing you to save social media posts as you search the web. Then, at the end of the day, you can track your engagement across social media to see where you're performing well and where you need help.
Pricing: Plans start at $0/month and go up to $399/month for 150 social accounts.
Conclusion
The right content marketing tools can make the difference between generating positive ROI and just getting by. The key is to choose the tools that will help you be most effective in your long-term plan, ensuring that you stay on top of your strategy and hit all your goals. Whether you need help writing, editing, creating videos, or analyzing your results, there's a content marketing tool for you.
Editor's note: This post is by nDash community member Kelly Vo. Kelly writes a variety of business articles and website copy on topics such as Cloud computing, business safety, B2B & B2C marketing, entrepreneurship, e-commerce, and more. To learn more about Kelly, or to have her write for your brand, check out her nDash profile page.