If your goal is to secure high rankings on search engine result pages (SERPs), then you need to create content. And a lot of it!
When we say you need a lot of content, that's exactly what we mean. According to Infographic World, a company that excels in infographic marketing, certain 2017 studies revealed publishing at least one to two new pieces of content a month will attract 100 new visits to your site. When posting at least every other day, you'll generate more than 350 new visits a month.
Not only do you need to be publishing new content frequently, but Google loves long-form content. The more in-depth your postings are, the better you are able to establish an authoritative voice.
Ideally, each piece needs to be at least 1,500 words in length. The more, the better, though. When you start publishing pieces between 3,000 to 7,500 words on a regular basis, you are going to notice significant improvements in your SERPs rankings.
Create Content: The Cost
Image via Flickr by Denise Krebs
Now that you've decided to create content more frequently, you're probably freaking out. As of now, you're spending anywhere from $200 to $500 a month just to have two to four short-form blog postings created for you.
If you were to pay your content creator to create 15 blog posts a month, with each posting being at least 3,000 words, you're looking at spending well over $4,500 a month.
A writer worth acquiring services from is going to charge at least five cents a word, and this is going to be for a piece of content that requires little research, and it will also be for a piece of content that is only about 300 to 600 words in length. The longer the piece, the more research, which therefore increases the price per word.
Content creation isn't cheap. A worthwhile freelance writer who specializes in SEO copywriting will cost you at least 10 cents a word, and this is on the low end. 
And please, for the love of quality content, do not outsource your content creation to writers on a content mill like Textbroker. These writers only make a couple of pennies per word, and the end result reflects what you pay for. Sure, you may end up with a piece that is free of spelling and grammar errors, but because they are paid so little, they invest no time into researching, which means your content isn't going to be spruced up with valuable data and statistics.
The content you publish also needs to be well-organized in regard to subheadings and bulleted lists. You want your readers to be able to easily skim the content and find exactly what they are looking for.
Let's take, for example, that you published a 7,000-word piece of content titled Ways to Generate Leads Without Breaking the Bank. A person ends up reading your content after Googling the phrase "using case studies to generate leads."
We already know the person is looking for how case studies can help generate leads, so they probably don't want to read your entire posting.
Thanks to your use of subheads and bulleted lists, it is very easy for them to skim over the content and go directly to the section talking about case studies. You have made it very convenient and simple for the reader to find exactly what they are looking for. This is what true SEO marketing is all about.
Google wants your content to be long. Wants it to be stuffed full of data and statistics that have been pulled from authoritative sources. Wants it to be engaging and to provide value to the reader, allowing them to walk away from reading the piece feels as if knowing they have learned something that has simplified their lives. And in order to accomplish these goals, you're going to pay a pretty penny for professional content creation services.
But what if you could lower content creation expenses by having the content created internally? 
What you probably don't realize is you already have an army of writers on standby, waiting to create quality content for you. Your existing employees have a lot going on, but when you approach them the right way, they can be a massive source of content.
Let's explore how to entice your employees to become engaged in content creation.
Brand Experts Create the Best Content
Image via Flickr by Maryland GovPics
If brand experts create the best content, then why in the world have you not been tapping into your own source of brand experts to create content for you?
Let's say your company is a manufacturing plant. Just because your head safety control manager doesn't work under the title content creation specialist doesn't mean he can't create a quality blog posting. In fact, your top managers and supervisors are going to possess detailed insight regarding your brand that can be used to develop truly engaging content.
Ask yourself who is better to write a:
long-form blog posting on managing safety in a manufacturing plant than your own head safety control manager?
posting on optimizing assembly line productivity than your own assembly line managers?
posting on lowering janitorial expenses in a manufacturing plant than your own janitor?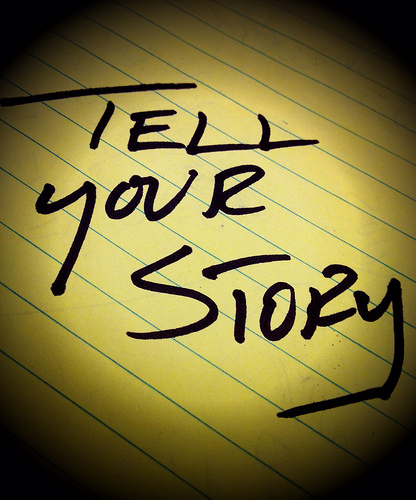 Image via Flickr by Damian Gadal
See, you have an army of content creators at your disposal that you never even knew were there! 
These people don't have to be experts in content creation. They don't have to possess top-notch grammar and spelling skills, either. Consumers will highly value content coming from your own employees much more than they will trust created-out-of-thin-air marketing content you had some outsider create. Plus, you're going to have an editor polish their content to ensure it's free of spelling and grammatical errors.
Let Your Employees Tell Stories
Storytelling has become a huge marketing success over the past few years. Consumers not only want to know how certain products can simplify their own lives, but they want to hear true stories of how these products have already helped other consumers, and they want to hear these stories in some type of storytelling format.
By letting your employees tell stories in content format, is a surefire way to engage your readers. And best of all, there are many ways to tell stories.
Videos have become excellent for showcasing your existing customers' satisfaction. Did you know when you include the term video in an email subject line that, it is 19 percent more likely to be opened? More so, emails highlighting videos have a 65 percent higher clickthrough rate than emails that don't include links to a video.
Videos are the ultimate alternative to long-form content. A minute of video is worth 1.8 million words. If you have an employee who doesn't want to create content for you, you can at least ask them to do a short two to three-minute video for you, answering a few questions that consumers want answers to.
According to this infographic, 92 percent of consumers want to view ads in which brands are telling a story. When you accomplish this goal, you can rest assured engagement and memory recall levels are going to be very high. In fact, studies have proven that the brain processes images/videos at a rate of 60 times faster than it does text only.
The Best Ways to Entice Employees to Create Content For Your Brand
Image via Flickr by Steven Depolo
Sure, you can see that having your employees create content for you is going to save a lot of money and will be a great way to keep the content flowing in, but getting your employees to jump on the content creation bandwagon can be a bit tricky. Not everyone is going to jump at the idea of sitting behind a computer and typing up a 5,000-word blog posting.
And to be quite honest, for those who aren't content creation specialists, creating a 5,000-word piece of content is going to take several days. Maybe even several weeks.
Fortunately, there are several ways you can entice your employees to create content for you, and it all starts with showing them what's in it for them. Here's a look at five examples of the best rewards you can offer employees for creating content:
Cash incentive ($100 for every 3,000-word blog posting; you'll need to pay an editor to polish the content)
A week of parking by the front door for each posting
Three hours paid vacation for each blog 5,000- word blog posting
$50 gift card to a local steakhouse for each long-form blog posting
Branded apparel (t-shirt for 3,000-word posting, sweatpants for 5,000-word posting, jacket for 10,000-word posting, etc.)
You can also start incorporating content creation into your employees' job descriptions. You will, of course, want to ensure compensation comes along with this required job duty, but in doing so, you can rest assured that you are hiring workers who understand creating content is a task they are responsible for.
It's Your Army
Image via Flickr by SupportPDX
Your workers are your army, and it's your duty to prepare them to create content. By offering quick-training sessions for creating content, you can easily train them to create quality content. Ideally, you will want to employ an editor who can polish all of your workers' content before it gets published. After all, polished content that brings value to the reader's life is going to enjoy high SERPs and will be a positive reflection on your brand.
About the Author 
Whitney White is a professional freelance writer who's sold over 12,500 pieces of content. Her clients include Forbes, Insight, Vero Beach Magazine, and many more. To learn more about Whitney — and to have her create content for your brand — please see her nDash profile page.